THE STANDARD JAZZ TRIO English
Werner Fischer (g), Fridel Berger (b), Gabriel Schiltknecht (dr)
| | |
| --- | --- |
| | CD: "Panda's Delight" |
Das Repertoire des Standard Jazz Trios umfasst neben Eigenkompositionen, bekannte und weniger bekannte Standards aus dem Great American Songbook sowie etliche wunderbare Sambas und Bossas der Musica Popular Brasileira. Das Trio um den Gitarristen Werner Fischer interpretiert diese Musik mit jazziger Lockerheit, aber immer modern und sinnlich.
Werner Fischer (Berklee Alumnus), seit den Achtzigerjahren als vielseitiger Jazzrocker und Folkpop-Musiker (Starfish) unterwegs, gründete sein Trio im Sommer 2003 vorerst als Hausband der Reihe 'Jazz am Sonntag' im El Local in Riedern. Im Sommer 2004 gingen sie zusammen mit dem Saxofonisten Jürg Wickihalder auf Tournee quer durch China.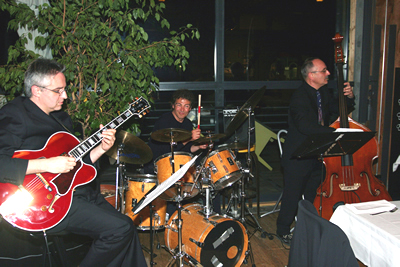 Das Standard Jazz Trio im Garten des Sino-Swiss Hotel Beijing Airport
Das Standard Jazz Trio im 'Daqing Yi Shu Gong Theatre' Daqing (Heilongjiang)
© Mei Tian Fischer
Werner Fischer (g), Fridel Berger (b), Gabriel Schiltknecht (dr)
| | |
| --- | --- |
| | CD: "Panda's Delight" |
The Standard Jazz Trio's repertoire ranges from original compositions, famous and lesser known standards of the Great American Songbook to charming Sambas and Bossas of the Musica Popular Brasileira. The trio around guitarist Werner Fischer interpret their music with the nonchalance of jazz - yet always with a modern and sensual attitude.
Werner Fischer (Berklee Alumnus) founded his trio in summer 2003 together with drummer-extraordinaire Gabriel Schiltknecht (Schildpatt) and his old 'playmate' Fridolin Berger, whose versatile bass has been in high demand in the greater Zurich area for over twenty years. They started out as houseband of a club in Glarus and soon were touring the vastness of China...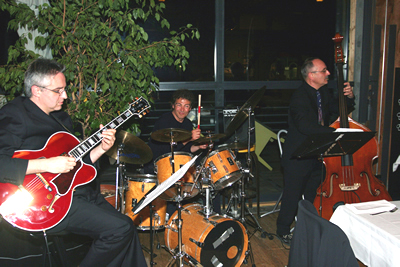 The Standard Jazz Trio at the Sino-Swiss Hotel Beijing Airport
The Standard Jazz Trio at the 'Daqing Yi Shu Gong Theatre' Daqing (Heilongjiang)
© Mei Tian Fischer